SPECIAL OFFER - Nice ROBUS400-KIT 24Vdc kit for a sliding gate up to 400Kg
SPECIAL OFFER - Nice RobusKit 400 24Vdc kit for a sliding gate up to 400Kg

The Kit Contains:
1 x RB400 irreversible electromechanical gear motor with an incorporated control unit and inductive limit switch.
2 x ON2E transmitter 433.92MHz, 2 channels.
1 x OXI receiver up to 4 channel receiver with the connector without built-in transmitter.

1 x pair of external photocells designed for connection by Nice BlueBUS.
User-friendly: the Nice BlueBUS technology, enables to power and control a maximum of seven couples of photocells from the MoonBus series using two wires only.
Practical: the control unit and PS124 buffer battery (optional) can be connected by means of a simple connector and can be housed directly inside Robus.
Advanced: RB400 is equipped with a temperature sensor: adapt the motor power to the climatic conditions and at the same time thermal cut-out. A master/slave selection automatically synchronises two motors. This means it is possible to automate double leaves sliding gates set opposite each other.
Intelligent: thanks to the obstacle detection system and automatic programming of the working times. Self-diagnosis by means of a flashing light. 8 programming levels.
Safe: acceleration and deceleration can be adjusted at the beginning and end of each opening and closing manoeuvre.
Sturdy: base and release in pressure die-cast aluminium and epoxy paint finish.
Very quiet: gear motor on bearings.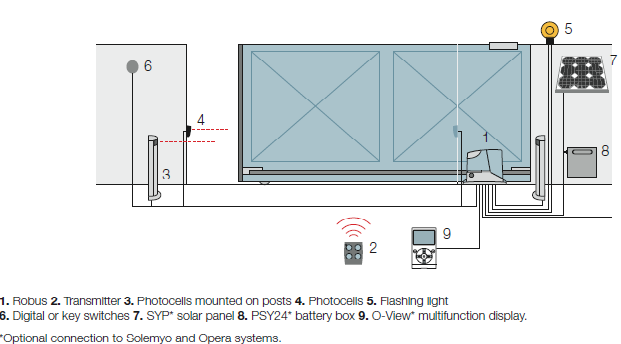 Technical
Battery Backup Option
Yes
BlueBus
Yes
IP Rating
44
Max Gate Weight
400Kg
Max Speed
34cm/sec
Motor Voltage
24Vdc
Solar Power Option
Yes
Work Cycle
35
Find An Installer
If you're looking for an installer to automate existing gates or install aluminium gates from our Stargate range, please fill in the form below.
The more information you can give us at this stage will help us to get the right installer for you.
They wil contact you directly and discus your requirements.
Linkcare Trade Discounts

Linkcare provides trade discount accounts for gate automation and access control installers and engineers.
We do not advertise trade discounted prices to the public.
The only way to see reduced prices in the Linkcare shop is by logging in with an installer account username and password.
You can then search for, compare, and buy any products online at the reduced trade prices.
You can also add products into wish lists for preparing quotes.
We protect your trade prices to prevent home owners from buying gate automation and access controls, and then asking you to install it. Some wholesalers sell to anyone at trade discounted pricing. This allows them to sell well, but it potentially reduces what you can earn from each installation job.
We want to ensure that qualified and trusted gate automation and access control installation professionsls are responsible for all gate automation installation so that each one is as safe as it can be.
Apply for a trade discount here or log into your trade account to see trade discounted pricing here.