Nice HOPPD-Kit 24Vdc articulated arm kit for swing gates up to 2.4m
Easy to install thanks to a new fixing bracket with quick connector for the motor.
Two irreversible 24Vdc motors with micrometric adjustment and mechanical stops on opening and closing:
With built-in control unit (HK7124) and without control unit (HK7224).
Powerful motors with 250 Nm torque.
Resistant and compact: 180 mm wide and ideal for any kind of post.
Small shockproof body with aluminium base.
Sturdy, aluminium anti-shearing arm.
No welding.
Sophisticated electronics with the built-in control unit, just 3 keys to managing all programming operations:
The kit contains:
1 x HO7124 + HO7224 electromechanical gear motors for external mounting.
HO7124 (with control unit and plug-in receiver
HO7224 (without control unit).
2 x ON2E 433.92 MHz, 2 channel transmitter
2 x

EPM

B photocells with provision for connection via Nice BlueBUS.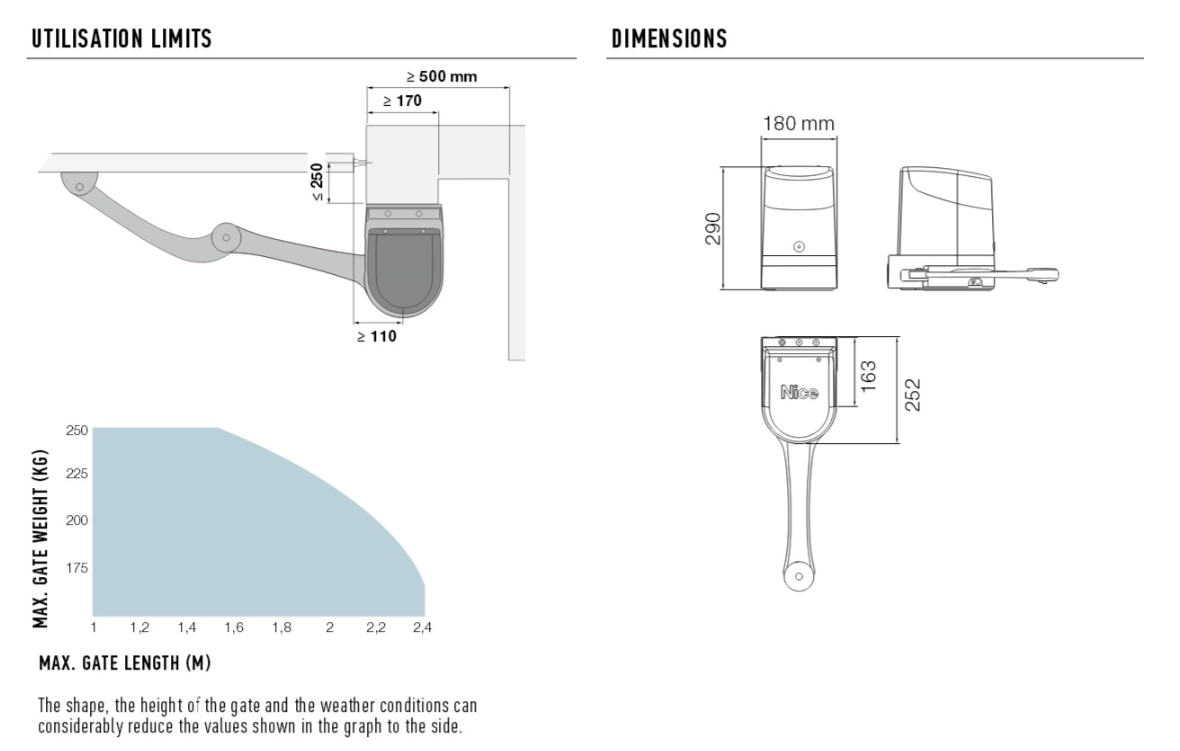 Technical
Battery Backup Option
Yes
BlueBus
Yes
IP Rating
54
Max Gate Leaf Length
2.4m
Max Gate Weight
250Kg
Max Speed
1.68rpm
Motor Voltage
24Vdc
Solar Power Option
Yes
Work Cycle
35
Find An Installer
If you're looking for an installer, please fill in the form below.
The more information you can give us at this stage will help us to get the right installer for you.
They will contact you directly and discus your requirements.
Linkcare Trade Discounts
Linkcare provides trade discount accounts for gate automation and access control installers and engineers.
We do not advertise trade discounted prices to the public.
The only way to see reduced prices in the Linkcare shop is by logging in with an installer account username and password.
You can then search for, compare, and buy any products online at the reduced trade prices.
You can also add products into wish lists for preparing quotes.
We protect your trade prices to prevent home owners from buying gate automation and access controls, and then asking you to install it. Some wholesalers sell to anyone at trade discounted pricing. This allows them to sell well, but it potentially reduces what you can earn from each installation job.
We want to ensure that qualified and trusted gate automation and access control installation professionsls are responsible for all gate automation installation so that each one is as safe as it can be.
Apply for a trade discount here or log into your trade account to see trade discounted pricing here.
.
.
.
.
.
.