AES 603-ABK DECT architectural digital wireless audio intercom system with keypad
603-ABK DECT Intercom Unit
This Architectural model is a highly stylish unit with curved edges and neon blue back-lighting.
The central panel is a toughened gloss black acrylic trim over a brushed stainless steel (BS316) marine-grade body.
603-ABK DECT Kit
The kit includes the speech panel with a power supply and transmitter module.
Three metres of screened CAT5 cable is supplied for connecting the speech unit and transmitter.
A maximum run of 8m for the CAT5 cable is recommended although keeping this as short as possible is advised.
Using highly reliable DECT digital communications the transmitter communicates with the handsets up to 350m to 400m away with a clear line of sight or up to 200m through an external house wall.
It comes with one handset with a charging base and charger although each system will support up to 4 wireless handsets. Additional handsets are available individually.
Full instructions for installing the 603 DECT system are also included.
Simple installation and system set-up
603-ABK DECT Keypad
The keypad now includes 3 relays and controls gate or door latch release, momentary operation and many additional operations.
The keypad and release button are illuminated with neon blue lighting.
603-ABK DECT Handsets
The handsets are very easy to use and feature an Answer and End Call button.
The Release button can be used to operate automatic gates when there is no active call by pressing and holding the Release button.
Missed visitors can leave voicemail messages that can be picked up on the handsets.
Internal calls can also be made between handsets.
For hearing impaired customers, the handsets incorporate a flashing strobe activation indicator.
The illuminated LED screen shows the reception strength indicator and voicemail message indicator.
Each handset uses AAA Ni-mH rechargeable batteries.
Handset battery life between charges is 24 hours.
603-ABK DECT Warranty
The AES 603 DECT wireless intercom system is supplied with a two year manufacturer's warranty.
603 DECT Options
Range extending antenna
Additional handsets
603-ABK DECT Specifications
12dc power supply
CAT5 alarm power cable friendly
Current consumption 50mA standby
Current consumption 250mA calling
N/O and N/C relays
Relay time fixed 4 seconds
Relay load 2A, 24Vac max.
1.88GHz digital DECT system
Cable cores 2 x SPK, 2 x MIC, s x power, 2 x button
Speech unit IP55
Transmitter unit IP65
Call unit dimensions H 297mm x W 144mm x D 40mm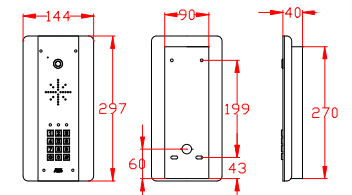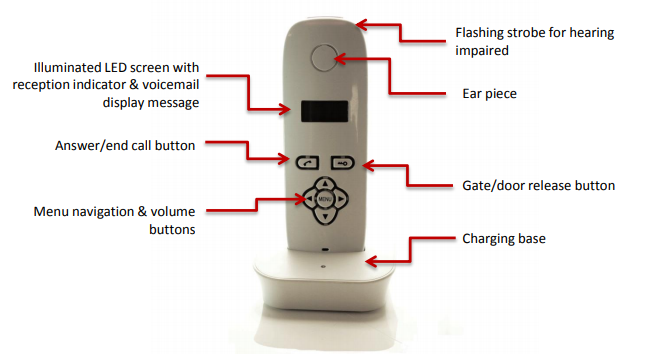 Technical
Power Supply
12Vdc
Find An Installer
If you're looking for an installer, please fill in the form below.
The more information you can give us at this stage will help us to get the right installer for you.
They will contact you directly and discus your requirements.
Linkcare Trade Discounts
Linkcare provides trade discount accounts for gate automation and access control installers and engineers.
We do not advertise trade discounted prices to the public.
The only way to see reduced prices in the Linkcare shop is by logging in with an installer account username and password.
You can then search for, compare, and buy any products online at the reduced trade prices.
You can also add products into wish lists for preparing quotes.
We protect your trade prices to prevent home owners from buying gate automation and access controls, and then asking you to install it. Some wholesalers sell to anyone at trade discounted pricing. This allows them to sell well, but it potentially reduces what you can earn from each installation job.
We want to ensure that qualified and trusted gate automation and access control installation professionsls are responsible for all gate automation installation so that each one is as safe as it can be.
Apply for a trade discount here or log into your trade account to see trade discounted pricing here.
.
.
.
.
.
.