AES PRIME7-IB-EU 4G imperial style GSM audio intercom
AES PRIME 4G intercoms systems now cost the same or only slightly more than the equivalent 2G system. So in order to future-proof your installations, we will only be supplying 4G systems as standard.
The benefits listed below outline why we are confident that you should be installing 4G systems from now on Android and iPhone apps provide end-users with full system operation from their phones, and an installer interface for system programming and management.
4G/3G/2G all built in to 1 unit! It chooses the best signal at that precise moment.
Background noise suppression and echo cancellation are part of VOLTE protocol.
Voicemail skipping feature.
True HD calling in 4G Better sound quality in both directions.
Choose which digit to trigger the relays from your phone.
Name window option using modular panels.
Caller ID on 2 relays. Faster connection time on a call.
Option to remove latching relays from phone (preventing accidental latching).
Potential for future 5G board upgrade.
Optional confirmation button for relay triggering during a call (to prevent accidental triggers).
Futureproof with easier firmware upgrades.
Ring tone at panel volume adjustment.
Cellcom Prime6 4G (EU) Imperial Style Imperial Style. All black panel with textured power coated aluminium hood and gloss black acrylic fascia trim over a tough metal back plate. Compete with a modern white illuminated push button. No keypad.
Key features

Free Android & iPhone installer and end-user apps for portal control simplicity.

Integrated time clock.
Automatically open/close gates during preset schedules.

remote Keyboard programming via SMS/ App.

Save temporary codes or restricted codes for security.

Do not disturb function to avoid nuisance calls during the night.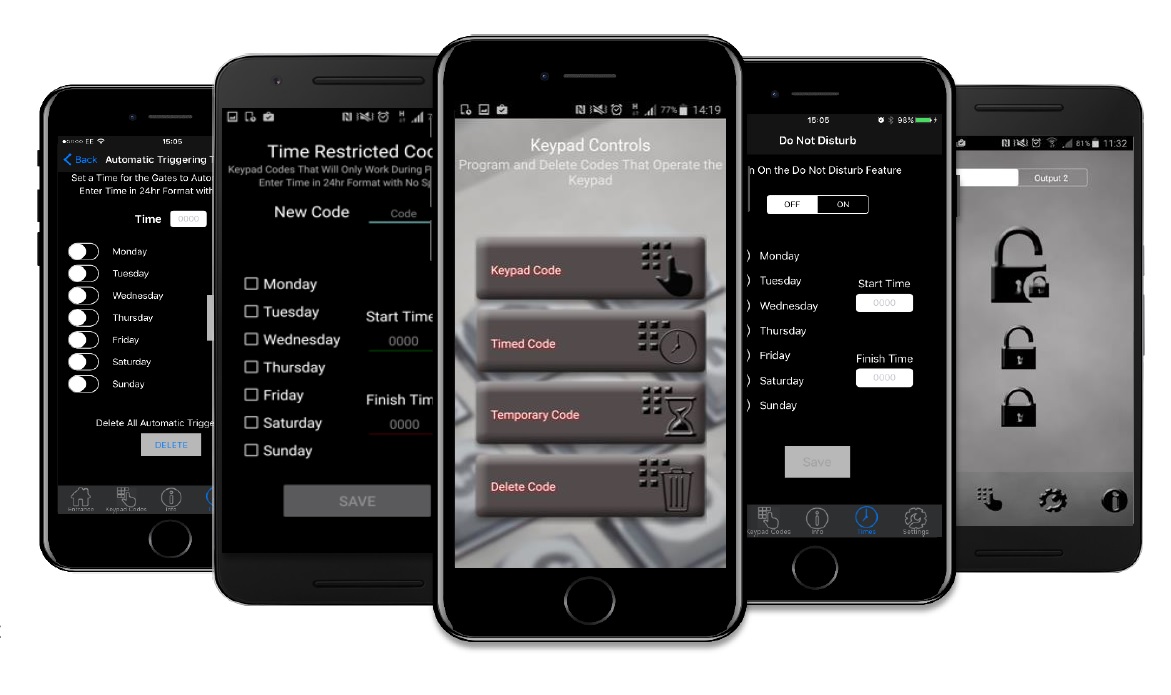 - Ultra stylish all-black panel, with a textured powder-coated aluminium hood and gloss black acrylic facia trim over a tough metal backplate. Complete with modern white illuminated push button.
- Kit includes speech panel, antenna, power supply and install manual.

Find An Installer
If you're looking for an installer, please fill in the form below.
The more information you can give us at this stage will help us to get the right installer for you.
They will contact you directly and discus your requirements.
Linkcare Trade Discounts
Linkcare provides trade discount accounts for gate automation and access control installers and engineers.
We do not advertise trade discounted prices to the public.
The only way to see reduced prices in the Linkcare shop is by logging in with an installer account username and password.
You can then search for, compare, and buy any products online at the reduced trade prices.
You can also add products into wish lists for preparing quotes.
We protect your trade prices to prevent home owners from buying gate automation and access controls, and then asking you to install it. Some wholesalers sell to anyone at trade discounted pricing. This allows them to sell well, but it potentially reduces what you can earn from each installation job.
We want to ensure that qualified and trusted gate automation and access control installation professionsls are responsible for all gate automation installation so that each one is as safe as it can be.
Apply for a trade discount here or log into your trade account to see trade discounted pricing here.
.
.
.